All prices are in Canadian dollars.
Evaluating Supply Management Costing Data
| | | |
| --- | --- | --- |
| Date: | | Feb 11, 2021 - May 06, 2021 |
| Time: | | 7:00 PM |
---
Students analyze the responsibilities of supply chain from a macro and micro economic perspective. Upon completion of the course, students will understand the costs and key performance indicators which strategically influence operational decisions, while adopting processes for effective and high-quality supply management decisions
Introduction to Operations & Supply Chain Management Strategies
Evolution of Supply Chain Management
Financial Contributions
Functions of organizational structures, ownership & management
Triple Bottom Line
Comparing 'goods' & 'services'
Sales & Operations Planning
Sales & Operations Planning (S&OP)
Planning Horizons, Yield Management & Production Planning Strategies
Process Analysis
Product-Process Matrix
Process Mapping
Process Performance Metrics
Make-to-Order versus Make-to-Stock
Strategic Service Process Analysis
Process Design
Waiting & Queuing Time Analysis
Service-System Design Matrix
Operational Classifications
Logistics
Logistics System Design Matrix
Factor Rating System
3PL
Inventory Management
Scope & Purpose
Inventory Performance Metrics
Pareto 80 / 20 Analysis
ABC Classification
Total Inventory Costs
Forecasting
Forecasting Ranges
Forecasting principles & practices
Qualitative and Quantitative Forecasting Techniques
Evaluating Forecasting Performance (ie. MAD, MAPE, SD)
MRP
Evolution of MRP to ERP
Contributions to the supply chain and operating performance metrics
Review concepts & applications (ie. MPS, BOMs, Lead Times, Inventory Files)
Ordering Practices (EOQ, Part Period, Lot for Lot)
Lean Supply Chains
Reduction of waste strategy
Kaizen
Toyota Production System
KANBAN
JIT
Lean Supply Chain Design Principles
Value Chain Mapping

Global Sourcing & Procurement
Role of sourcing and procurement
Establishing cost effective supply chains
Develop & evaluate Vendor Performance metrics
Manage Vendor Performance
Bullwhip Effect
Green Sourcing
Total Cost of Ownership
Quality
Scope & purpose of Total Quality Management (TQM)
ISO Quality Programs
TQM costs
Six Sigma
DMAI
Regular Registration
Members $695.00 + HST (13%)

Non-members $995.00 + HST (13%)

Non member registration includes membership until April 30, 2021 (available to ON residents only)
Membership will be activated after this course has started
A textbook is required for this course.
Operations & Supply Chain Management The Core, 4th edition, © 2017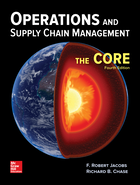 F. Robert Jacobs and Richard Chase
Hard Copy: ISBN10: 1259549720 | ISBN13: 9781259549724

Loose Leaf Copy: ISBN10: 1259671003 | ISBN13: 9781259671005
***For textbook purchases a new textbook is recommended. You will need the Connect card code to access additional resources.
Cancellation/Refund Policy: An administration fee of $150.00 is applicable to cancellation/withdrawal requests received in writing before Session 2, thereafter, no refund will be available. Transfer request to a future course or seminar offering is permissible only if received in writing and accompanied by supporting documentation prior to session 3. Please contact SCMAO for details regarding eligibility for transfer. Credits to be used for future offerings are valid for 12 months from the date of initial payment and will expire if not used in that time frame.
To begin, please enter your email address below.
Should you not be able to complete the form in one sitting, any information you have entered will be saved and your form will continue from where you left off when you return.

By entering your email you are giving your consent to be contacted electronically by Supply Chain Canada on matters regarding the event and your registration/enrollment.