All prices are in Canadian dollars.
AI for Supply Chain Management Professionals, Managers and Decision Makers
Date:
Apr 02, 2020
Time:
9:00 AM (EDT)
Location:
Supply Chain Canada Ontario Institute
1 Dundas Street West
Toronto, ON
---
AI is the new buzz word in the supply chain management area and pretty much any major industry. It has driven a massive amount of attention and investment into related projects, and many technical developers have started to develop and implement AI systems. Moving towards AI-empowered systems would save millions of dollars for companies. However, blindly following the trends would cost organizations even more. This course is designed to help SCM decision-makers (with possibly limited/no AI technical knowledge) to better understand opportunities and business potentials of Artificial Intelligence. The course will also help understand pitfalls and potential issues of AI and how to avoid them. The workshop will empower supply chain management decision-makers to make informed decisions about AI projects, better communicate with technical experts, and potentially save millions of dollars for their organizations.


Module 1: Introduction to AI
How AI is different from conventional computer programming and day-to-day IT?
How AI is different from Data Science? Are there any overlaps?
Is AI the same as Machine Learning?
How AI systems work? Can they replace humans?
A little bit of AI history.
What are the working principles of AI?
Workshop: SCM tasks and current IT applications

Module 2: Structure of AI Solutions
Meaning of Intelligence in Technology
ANI vs. AGI and ASI Intelligence
Supervised vs. Unsupervised ML
NLP, Vision, Classification, Recommender Systems

Module 3: Data and SCM Applications
Problem of Data
Forecasting
Automation and Robotics
Routing
Worker Performance Assessment
Dynamic Inventory Management
Pricing

Module 4: AI SCM Projects
In-house vs. outsource dilemma
Project decision
Structure of the AI project team
How to develop an AI team
Module 5: Ethics, Safety, and Biases
Dangers of AI
Biases and solutions
Future of AI
Current initiatives

Beneits
By the end of this program, you will:
Earn a certificate of achievement
Become a member of SCM Community of Artintech and get in touch with other experts
Better communicate with technical teams, investors, C-Suit leaders, and decision-makers, and other stakeholders about AI projects, capabilities, and cost drivers


Instructor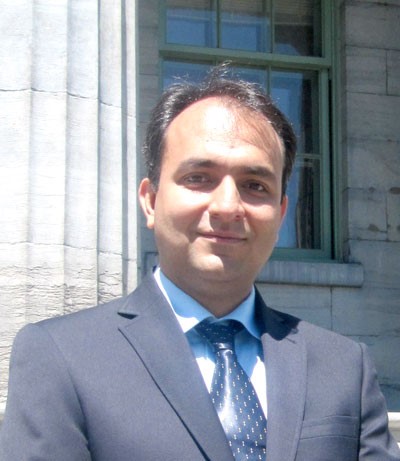 Dr. Amir Harandi,
Ph.D. Strategic Management
MBA, PMP
B.SC. Electrical Eng.
Dr. Amir Harandi has many years of academic and industry experience. He is founder and CEO of Artintech, a Canadian supply chain technology development company. He is also co-founder of Helmfried Business Solutions Inc. a Canadian Business Consulting company. Dr. Harandi has previously worked as Senior consultant, chief strategy office, project manager, international marketing manager, and technology developer for many companies over the past 20 years.
Dr. Amir Harandi has 21 year of teaching experience in Middle East, South East Asia, and North America for institutes such as United Nations, Paris Graduate School of Management, University of East London, Linton University, Sheridan College, Cambrian College, and Petrel College.


Registration Cost:

Early Bird Avalible until February 2, 2020
Members: $535.50 + HST
Non Members: $805.50 + HST
Regular Registration
Members: $595.00 + HST

Non-Members - $895.00 + HST

Non member registration includes membership until April 30, 2020 (activated after seminar ends and only eligible for Ontario residents)
This seminar is eligible for 5 CPD credits.
To start the registration process please enter your email address.
This attendee is the primary registrant and their contact information will be kept on file.

Should you not be able to complete the registration process in one sitting, any information you have entered will be saved and your registration will continue from where you left off when you return.

By entering your email you are giving your consent to be contacted electronically by Supply Chain Canada on matters regarding the event and your registration.